Cigna Global Health Insurance Plan offers comprehensive Worldwide coverage. Customizable with three levels to choose from, four optional add-ons and flexible payment options.
How to create your plan:
1. Select your Core Plan:
– You have three currencies to choose from: US Dollars, Euro or Sterling
– Select your payment frequency: monthly, quarterly (3% discount) or annually (10% discount)
– Select your deductible for the Core plan (this is the amount you must pay towards your cost of treatment until the deductible for the period of cover is reached).
– Select your Core Plan: Silver, Gold or Platinum (All of core plans cover hospital stays and treatments. Surgeon and consultation fees and hospital accommodation are also covered.)
– You can also change the Cost Share of the Core Plan. Cost Share is the percentage you must pay toward your cost of treatment. It is subject to Out of Pocket Maximum (OOP Max). OOP Max is the maximum amount of cost share you have to pay per period of coverage.
2. Add optional modules:
– International Outpatient (Consultation with medical practitioner and specialist that does not require overnight hospital admission, diagnostic tests, prescribed drugs, durable medical equipment and more).
– International Vision & Dental (Preventative, routine and major dental treatments; Routine eye examination and cost for glasses & lenses).
– International Evacuation & Crisis Assistance Plus (Medical evacuation in the event of an emergency & global crisis response service).
– International Health & Wellbeing (A broad range of tools to manage your day-to-day health and wellbeing, including preventative cancer screening, emotional support councillors and wellness coaches).
3. Manage your premium:
You have the flexibility to adjust your premium by choosing a Deductible and/or Cost Share.
If you choose an annual or quarterly payment for your plan, your premium will be slightly lower than paying monthly.
BENEFITS: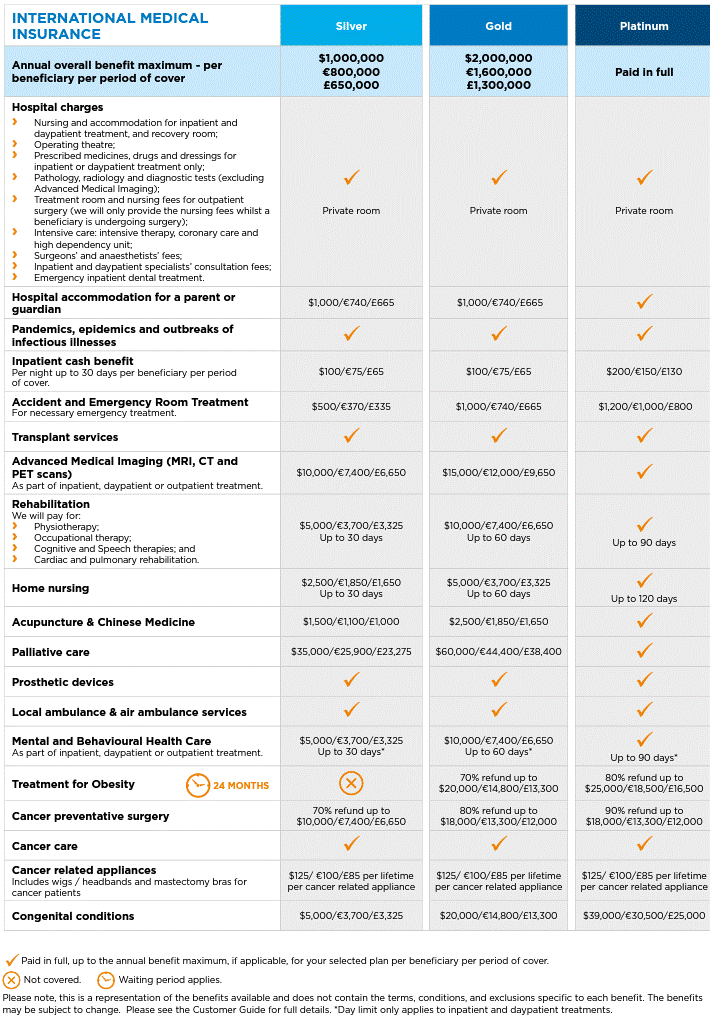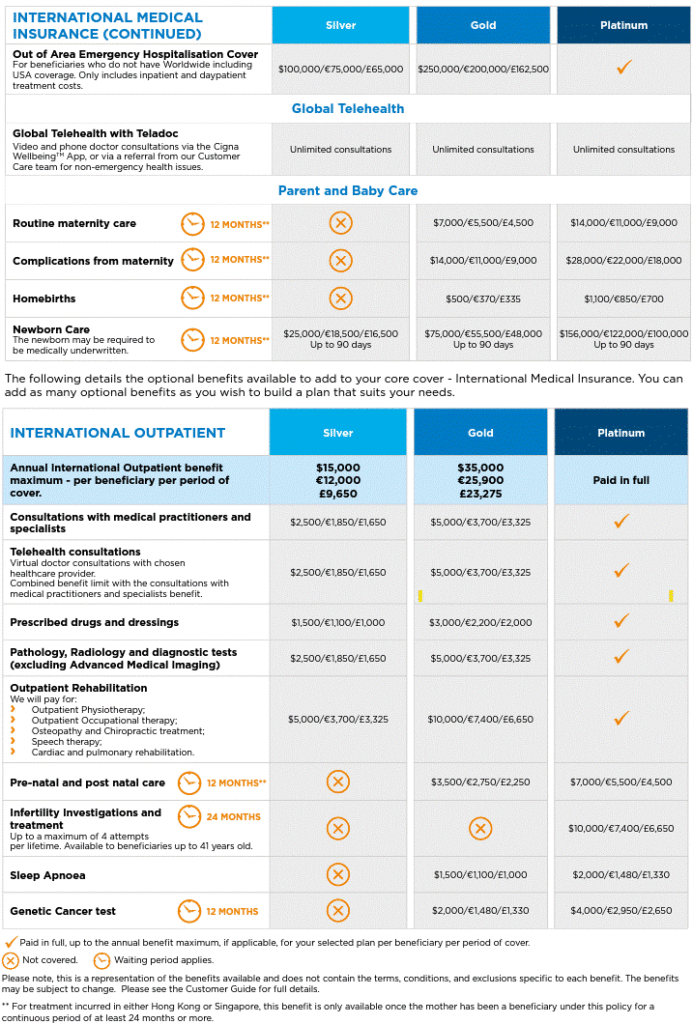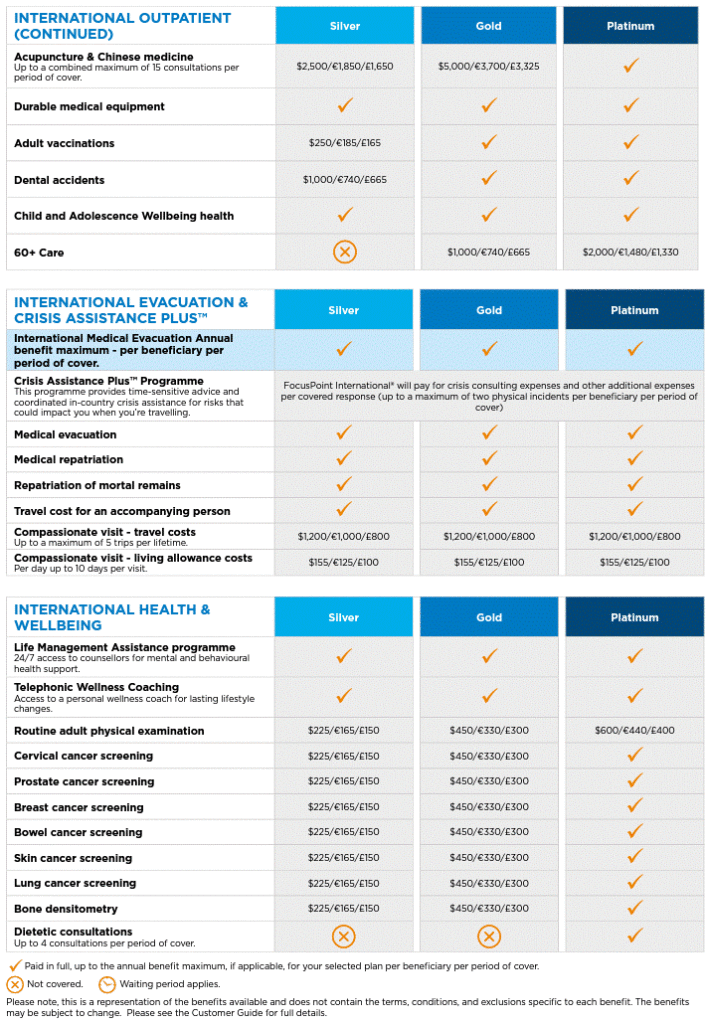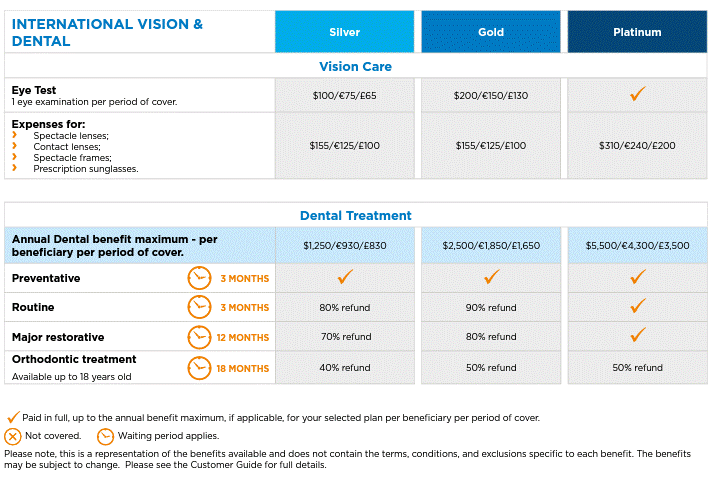 Why choose Cigna Global Health Plan:
Experience: with roots in healthcare as deep as 225 years, Cigna is a globally recognised and trusted health services company.
Global network: over 1.65 million partnerships, including 175,000 mental and behavioural health care providers, and 14,000 facilities and clinics in over 200 countries and jurisdictions , Cigna specialise in delivering international healthcare with leading medical providers across the globe to give you peace of mind.
Comprehensive coverage: Global Health plan covers treatment for both emergency and routine health care, and provides expats with flexibility in terms of choice of doctor and treatment facility, with the ability to receive treatment anywhere within their region of cover. Benefits include inpatient, daypatient and emergency cover, mental health care, pandemic cover and cancer care.
24/7 Support: Customer Care team is available for you 24/7 and they aim to answer your call within 20 seconds. Multicultural team can assist you in many languages.
Direct payments for eligible claims: Cigna can liaise directly with your treatment provider to arrange direct billing by issuing a guarantee of payment. If you've paid your hospital, clinic or medical practitioner yourself, submit your invoice online, via email, fax, or post. Claims usually are paid within 5 working days after receiving all necessary documentation. NOTE: You are responsible for paying any deductible or cost share directly to the hospital, clinic, medical practitioner or pharmacy at the time of treatment.
Technology: With access to the secure online Customer Area, you will be able to: Access care and easily find local medical providers; Manage your policy and submit and track claims; Contact Cigna through a live chat, by messaging, or by arranging a callback. The Travel Information Portal offers global travel advice, country profile, real time alerts and health threats, including pandemic and epidemic.
Predictable premiums: Cigna Global Health plans are designed for people living or working overseas long term. Be aware of low introduction premiums offered in other markets! Their price can escalate significantly at time of renewal and make your health plan unaffordable after the first year of enrollment. Cigna uses their scale and years of experience to secure affordable and predictable premiums at times of policy renewals.
Out of Area Emergency Hospitalization – up to 21 days per trip to a maximum of 60 days per year when you travel outside of your selected area of coverage. When your country of nationality is within the selected area of coverage, temporary visits to your country are covered up to 180 days per policy year.
COVID-19 and other pandemics: Cover for medically necessary treatment for disease or illness resulting from a pandemic (including COVID-19), epidemic or outbreak of infectious illness at your selected area of coverage.

Who can apply:
Global Professionals: Healthcare when working and living abroad.

Local and Global Coverage – the freedom to access treatment wherever you are, through our worldwide network of over 1.65 million trusted hospitals, clinics and medical professionals.
Flexibility, Choice and Portability – allowing you to create a plan that suits your needs and budget and one that moves with you, in over 200 countries and jurisdictions.
24/7 Support for Mind and Body – extensive core cover and the resources, tools and programs to look after your physical health, mental health and emotional wellbeing.
Digital Health at your fingertips – innovative tools, including the Cigna Wellbeing™ app and Global Telehealth for multilingual access to care anytime, from anywhere.

Families: Cigna family-friendly plans offer flexibility to tailor cover to suit your family's unique circumstances.

Maternity and New-born Care – cover for routine, and complicated maternity inpatient and outpatient care and new born care for the first 90 days.
Fertility – covered on our Platinum plan, infertility investigation and fertility treatment.
Child and Adolescence Wellbeing – health checks, development assessments and mental healthcare, including Autism and ADHD.
COVID-19 and other pandemics – cover for medically necessary treatment for disease or illness resulting from a pandemic, epidemic or outbreak of infectious illness.

Retirees: your plan can be personalized, based on factors such as your age, current and past medical history, and where it is that you will be living.

60+ Care (Gold and Platinum plans) – cover for the following pre-existing conditions: Hypertension, Type 2 Diabetes, Glaucoma, Arthritis, joint or back pain, Osteoporosis/ Osteopenia.
Chronic Condition program gives you ongoing support for a chronic condition, through a case manager that will monitor and evaluate your condition and treatment plan.
Cancer care is paid in full across all our core plans. Cancer screenings are also covered under the International Health and Wellbeing add on.

Students:

Affordable coverage for students abroad.
Mental Health Support.
Emergency coverage for unexpected injuries.
24/7 multilingual Customer Service.

Cancellations and Refunds:
This policy is an annual contract. This means that, unless it is terminated earlier, the cover will end 1 year after the start date. This is not a short-term contract.
You have a statutory right to cancel your policy within 14 days from the date you receive this policy and receive a full refund (unless there is a claim paid or a guaranteed of payment has been issued).
If you want to terminate this policy after the 14 days free look period, you may do so at any time by giving Cigna at least 14 days' notice in writing. Termination will take effect 14 days after the request.
If the policy is terminated, before the end date, and there is a claim paid or a guarantee of payment has been issued during the period of cover, you will be liable for the remainder of any premiums in respect of the policy which are unpaid. If your annual premium is collected at intervals throughout the policy year, you will be responsible for making these payments for the remainder of the period of cover or alternatively, settle the outstanding premium amount.

Claims:
Contact the Customer Care team prior to treatment. You can reach them 24 hours a day, 7 days a week via live chat on your secure online Customer Area on www.cignaglobal.com, email at cignaglobal_customer.care@cigna.com or phone:
– International: +44 (0) 1475 788 182
– USA: 800 835 7677 (toll free)
– Hong Kong: 2297 5210 (toll free)
– Singapore: 800 186 5047 (toll free)
The easiest way to do this is via your secure online Customer Area. Claims forms and invoices should be submitted as soon as possible after any treatment. If they are not submitted within 12 months of the date of treatment, the claim will not qualify for payment or reimbursement.
How to submit claims:
– Your secure online Customer Area on www.cignaglobal.com
– Email: cghoclaims@cigna.com
– Fax: +44 (0) 1475 492 113 (Outside the USA); 855 358 6457 (Inside the USA)
– Post: For Treatment Incurred:
• In the USA: Cigna International PO Box 15964 Wilmington Delaware 19850 USA
• In Hong Kong: 16/F, International Trade Tower 348 Kwun Tong Road Kwun Tong Kowloon Hong Kong SAR
• In Singapore: 152 Beach Road #33-05/06 The Gateway East Singapore 189721
• Outside of the USA, Hong Kong, or Singapore:1 Knowe Road Greenock Scotland PA15 4RJ

Exclusions:
The following exclusions apply to the International Medical Insurance plan and to all of the extra coverage options. Please also refer to the list of benefits detailed in the Customer Guide, including the notes section for any further restrictions and exclusions that apply, in addition to the General Exclusions. Please also refer to your Certificate of Insurance for any special exclusions that may apply.
1. Treatment which is provided by:
a) a medical practitioner who is not recognised by the relevant authorities in the country where the treatment is received as having specialist knowledge of, or expertise in, the treatment of the disease, illness or injury being treated;
b) a medical practitioner, therapist, hospital, clinic, or facility to whom Cigna have given written notice that we no longer recognise them as a treatment provider. Details of individuals, institutions and organisations to whom we have given such notice may be obtained by calling our Customer Care Team; or
c) a medical practitioner, therapist, hospital, clinic, or facility which, in our reasonable opinion, is either not properly qualified or authorised to provide treatment, or is not competent to provide treatment.
2. Treatment for:
a) a pre-existing condition; or
b) any condition or symptoms which result from, or are related to, a pre-existing condition. Cigna will not pay for treatment for a pre-existing condition of which the policyholder was (or should reasonably have been) aware at the date cover commenced, and in respect of which we have not expressly agreed to provide cover.
3. Preventative treatment, including but not limited to health screening, routine health checks and vaccinations (unless that treatment is available under the International Medical Insurance plan or one of the options for which a beneficiary has cover). Under the International Medical Insurance plan, the limits of cover for preventative surgery in respect of congenital conditions will apply, other than for cancer.
4. Treatment which is provided by anyone who lives at the same address as the beneficiary, or who is a member of the beneficiary's family.
5. Treatment which is necessary as a result of conflict or disaster including but not limited to:
a) nuclear or chemical contamination;
b) war, invasion, acts of terrorism, rebellion (whether or not war is declared), civil war, commotion, military coup or other usurpation of power, martial law, riot, or the act of any unlawfully constituted authority;
c) any other conflict or disaster events; where the beneficiary has:
i) put him or herself in danger by entering a known area of conflict (as identified by a Government in your country of nationality, for example the British Foreign and Commonwealth Office);
ii) actively participated in the conflict; or
iii) displayed a blatant disregard for their own safety.
6. Any treatment outside your selected area of coverage, unless the treatment can be covered under the 'Out of Area Emergency Hospitalisation Cover' conditions.
7. Travel costs for treatment including any fares such as taxis or buses, unless otherwise specified, and expenses such as petrol or parking fees.
8. Any expenses for ship to shore evacuations.
9. Treatment in nature cure clinics, health spas, nursing homes, or other facilities which are not hospitals or recognised medical treatment providers.
10. Charges for residential stays in hospital which are arranged wholly or partly for domestic reasons or where treatment is not required or where the hospital has effectively become the place of domicile or permanent abode.
11. Costs of hospital accommodation for a deluxe, executive or VIP suite.
12. Any prosthetic device or appliance, including but not limited to hearing aids and spectacles (unless the International Vision & Dental module is selected) which is not medically necessary and/or does not fall within our definition of prosthetic device(s).
13. Incidental costs including newspapers, telephone calls, guests' meals and hotel accommodation.
14. Costs or fees for filling in a claim form or other administration charges.
15. Non-medical admissions or stays in hospital which include:
a) treatment that could take place on a daypatient or outpatient basis;
b) convalescence;
c) admissions and stays for social or domestic reasons e.g. washing, dressing and bathing.
16. Life support treatment (such as mechanical ventilation) unless such treatment has a reasonable prospect of resulting in the beneficiary's recovery, or restoring the beneficiary to his or her previous state of health.
17. Foetal surgery, i.e. treatment or surgery undertaken in the womb before birth, unless this is resulting from complications arising through maternity and shall be subject to the limits detailed in the Complications from Maternity benefit under the International Medical Insurance plan.
18. Footcare by a Chiropodist or Podiatrist.
19. Treatment for, or in connection with, smoking cessation.
20. Treatment that arises from, or is in any way connected with attempted suicide, or any injury or illness that the beneficiary inflicts upon him or herself.
21. Developmental problems, treatment for personality and/or character disorders, including but not limited to:
a) learning difficulties such as dyslexia;
b) physical development problems such as short height;
c) affective personality disorder;
d) schizoid personality disorder; or
e) histronic personality disorder.
22. Disorders of the temporomandibular joint (TMJ).
23. Treatment for a related condition resulting from addictive conditions and disorders.
24. Treatment for a related condition resulting from any kind of substance or alcohol use or misuse.
25. Treatment needed because of, or relating to, male or female birth control, including but not limited to:
a) surgical contraception, namely:
– vasectomy, sterilisation or implants;
b) non-surgical contraception, namely:
– pills or condoms;
c) family planning, namely:
– meeting a doctor to discuss becoming pregnant or contraception.
26. Treatment by way of the intentional termination of pregnancy, unless the pregnancy endangers a beneficiary's life or mental stability.
27. Treatment for sexual dysfunction disorders (such as impotence) or other sexual problems regardless of the underlying cause.
28. Treatment which is intended to change the refraction of one or both eyes, including but not limited to laser treatment, refractive keratotomy and photorefractive keratectomy. Note that we will pay for treatment to correct or restore eyesight if it is needed as a result of a disease, illness or injury (such as cataracts or a detached retina).
29. Gender reassignment surgery, including elective procedures and any medical or psychological counselling in preparation for, or subsequent to, any such surgery, unless state or federal law requires such coverage. We will cover medically necessary behavioural health services, including but not limited to, counselling for gender dysphoria and related psychiatric conditions (such as anxiety and depression) and medically necessary hormonal therapy.
30. Treatment which is necessary because of, or is any way connected with, any injury or sickness suffered by a beneficiary as a result of:
a) taking part in a sporting activity at a professional level;
b) taking part in a hazardous sporting activity or hobby, including but not limited to off-piste winter sports, base jumping, tombstoning or cliff jumping, mountaineering or rock climbing, potholing, motorsports, equestrian sports (for instance horse racing or jumping, polo, or hunting), bull riding or bull running, parkour;
c) solo scuba-diving; or
d) scuba-diving at a depth of more than thirty (30) metres unless the beneficiary is appropriately qualified (namely PADI or equivalent) to scuba-dive at that depth.
31. Treatment which (in our reasonable opinion) is experimental, or has not been proven to be effective. This includes but is not limited to:
a) treatment which is provided as part of a clinical trial;
b) treatment which has not been approved by the relevant public health authority in the country in which it is received; or
c) any drug or medicine which is prescribed for a purpose for which it has not been licensed or approved in the country in which it is prescribed.
32. Any form of cosmetic or reconstructive treatment and any complication thereof, the purpose of which is to alter or improve appearance even for psychological reasons, unless that treatment is medically necessary and is a direct result of an illness or an injury suffered by the beneficiary, or as a result of surgery.
33. Treatment that is in any way caused by, or necessary because of, a beneficiary carrying out an illegal act.
Cigna will not offer cover or pay claims when it is illegal for us to do so under applicable laws. Examples include but are not limited to, exchange controls, local licensing regulations or trade embargo.
In accordance with clause 19, Cigna will not cover any beneficiaries or pay claims in jurisdictions when doing so would violate applicable trade restrictions, including but not limited to: restrictions imposed by the United States Department of Treasury's Office of Foreign Assets Control; the European Union Commission, or; the United Nations Security Council Sanctions Committees.
IMPORTANT NOTE: The product-related information on this website is for illustration purposes only. For complete benefits, terms, conditions, limitations and exclusions, please see the policy booklet at the download section below. Please read and understand your policy before you travel.

Downloads:
Cigna Global Health Policy Rules PDF
Cigna Global Health Customer Guide PDF
Cigna Global Health Brochure PDF